Manufacturer

Universal Audio
Type

Compressor/Limiter

A Toneful, Colorful Compressor
Billed as a "true peak limiter with all transistor circuitry and superior performance on all types of program material," the 1176's major selling point was its ultra-fast attack time — a mere 20 µS (.00002 seconds) at its fastest setting. But engineers soon found out that the 1176 also injected character, attitude, and vibe to anything run through its circuitry. Some even used the 1176 with the compression turned off, just for the distinctive tone it imparts. The unit's amplifiers and transformers all by themselves give a desirable "hot" quality to anything passing through them.
Rebirth of a Legend
In 1999, when Bill Putnam, Jr. relaunched Universal Audio, a reproduction of the Blackface 1176LN was the company's first product. Reissued in 2000, it was based on the circuit designs of the C, D, and E revs of the classic 1176. One of the most critical aspects of recreating the sound of the original hardware, was faithfully reproducing the original output transformer, complete with the additional windings that provided the feedback signal to the final line output amplifier circuit. Bill Putnam Jr. found extensive design notes that enabled him to recreate and improve his father's original design.
Push-Button Magic
One of the 1176's famous features are its push-button selectable ratios of 4:1 and 8:1 for compression, and 12:1 and 20:1 for limiting. 1176 at 4:1, to its most notable setting, the "All Buttons In" mode, where all the ratio buttons are depressed simultaneously. This allows the 1176 to make a sound unlike any other processor ever heard before. Distortion increases, along with a plateaued slope and a lag time in response to initial transients, creating an explosive sound on drum room mics, fuzzing-out bass or electric guitar sound, or squeezing a vocal to bring it front and center of your mix.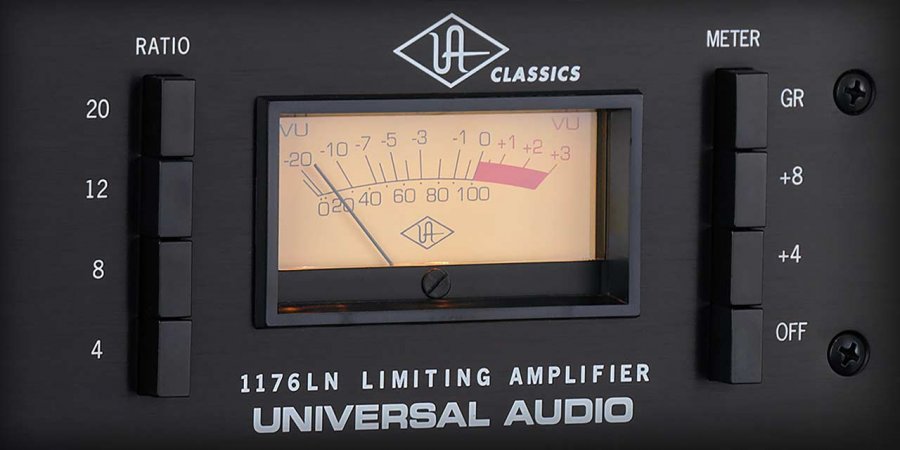 SPECIFICATIONS:
Input Impedance
600 ohms, bridges-T control (floating)
Output Load Impedance
600 ohms, floating, damping factor 20
External Connections
Jones Barrier terminals and XLR connectors
Frequency Response
± 1 dB 20 Hz to 20kHz
Gain
50 dB
Distortion
Less than 0.5% total harmonic distortion from 50 Hz to 15 kHz with limiting
Signal to Noise Ratio
Greater than 70 dB at +10 dBm
Attack Time
20 microseconds to 800 microseconds
Release Time
50 milliseconds to 1.1 seconds
Stereo Interconnection
via 1176 SA Network accessory
Meter
dB gain reduction and dB output
Power Requirements
120/240 V
Environmental
Maximum operating temperature 160°F
Dimensions
19" Rackmount chassis, 2U