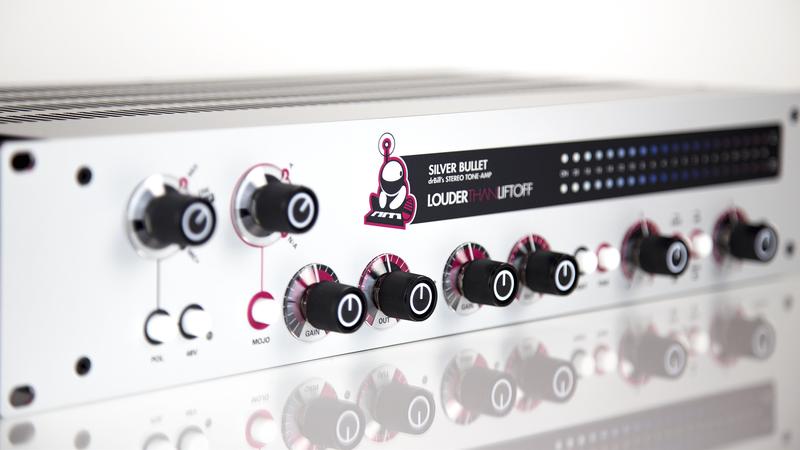 Louder Than Liftoff is proud to introduce Silver Bullet - a unique collaborative effort between Louder Than Liftoff and industry veteran, drBill, that marries drBill's vintage Tone-Amp experimentations with Louder Than Liftoff's modern design approach and aesthetic. This labor of love offers a first-of-its-kind analog topology and workflow that is designed for, and easily integrated into the modern DAW-based studio. The Silver Bullet was designed to enhance and shape tracks to sound like a record during every phase of audio production from composition to the final mixdown.
MOJO Amps + Tone Shaping = Tone-Amp™
The Silver Bullet represents a new, innovative class of hardware designed to infuse missing analog mojo into your digital world. MOJO Amps capturing the vibe of vintage American and British consoles are coupled with a musical results-driven set of tone shaping features. Together they create a Tone-Amp capable of handling all mixing, tracking, and microphone preamp duties.
Integrated signal routing functionality not only enhances creativity and workflow, but also makes the Silver Bullet a single unit solution for the modern hybrid studio.
The Silver Bullet is very effective at introducing desirable analog artifacts (i.e. 'mojo') into digitally produced mixes without expensive summing solutions, consoles, or never-ending chains of emulation plugins.
Tone-Amp analog Mix and Tracking processing modes with dedicated I/O
'A' and 'N' cascading MOJO Amp circuit topologies inspired by classic American and British consoles from the 70's
Mix and Tracking Modes allows both Mix processing and Overdub / Tracking processing without any re-patching of cables or need for patch bays

Mix: process the 2-bus, bounce digitally recorded tracks and stems, combine with a DAW controlled summing system, or use with a passive summing in Folcrom mode.
Track: connect after your mic preamp, synth, sampler, etc.

Mic Modes allow Silver Bullet to function as a fully featured stereo microphone preamplifier with Polarity Reverse and 48V phantom power
Stereo signal path throughout with single set of easily recallable detented controls
Visually stunning 20-segment stereo high resolution output meter
Mojo LEDs provide visual feedback of signal level intensity
Tone shaping EQ suite designed specifically for mix sweetening and broad stroke tone sculpting of individual tracks

Tight: 12 dB/oct, 20 Hz high pass filter with slight resonance at 40 Hz for tightening bottom end and increasing low frequency headroom
Baxandall Tone EQ, +/-9 dB boost/cut

LF: Pultec-inspired Subsonic (30 Hz) and Bass (60 Hz) frequencies
HF: Presence and Air frequencies

Vintage: softens high frequency response to emulate vintage British consoles

Custom wound, American made transformers
ROGUE FIVE discrete op amps designed by Louder Than Liftoff, conforming to standard 2520 footprint
Class-A biased op amps
All circuit components chosen by ear for maximum MOJO
Includes robust external universal (100-240 VAC, 50/60 Hz) power supply and IEC power cord (14 AWG - U.S. only